Dermatology is the medical specialty caring for illnesses relating to the skin, hair and nails. There are over two thousand different diseases of skin.
A dermatologist is a medically qualified doctor who has chosen to spend several years of his medical training specifically in dermatology.

Dermatologists see and treat patients with skin diseases

(such as eczema and psoriasis)

, many diseases which affect the genitalia and the inside of the mouth and they treat patients of all ages.
Dermatologists spend a lot of their time treating patients with skin cancer, often by surgery.

In addition to treating all manner of common skin diseases, some dermatologists choose to develop additional skills and knowledge in a specific area of skin disease (such as phlebology - vein diseases like varicose veins, spider veins-, wound healing, allergy, laser treatment, infections of the skin, cancer, aesthetic surgery etc.)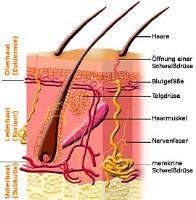 Dr. med P. Sander



Consultant of dermatology, phlebology and allergology
Board Certification in Dermatology:
Ärztekammer Westfalen – Lippe, 2001 (Germany)
Medical School and Year of Graduation:
University of Bochum (Germany), Strasbourg (France) and Liverpool (GB), 1996
Internship and Dermatology Residency Training:
University of Bochum (Germany) (Dermatology, Allergology, Phlebology) 1996 – 2003
Helios Klinik Oberwald, Grebenhain (Germany) (vascular surgery, proctology) 2004 - 2006
Main clinical and research interests:

Phlebology (vein diseases like Varicose veins, spider veins). Treatment: surgery, laser and sclerotherapy
Dermatological surgery including laser, tattoo removal
Skin cancer
Aesthetic Surgery
Wound care
Proctology
Wound care
Chronic skin diseases like psoriasis, acne and atopic eczema
Contact dermatitis and patch testing
Cutaneous allergic disease
Urticaria/angio-oedema
Hair & nail disorders
Contact informations
I.

skin medical practice Frankfurt (Main)
Goethestraße 4 - 8

60313 Frankfurt

phone:

0049 - 69-21998583

or 0049 - 177-4631709
I.

skin medical practice Dietzenbach
Babenhäuser Str. 31
63128 Dietzenbach
phone: 0049 - 6074-29507
or via internet:


http://www.dermatologie24.de
e-Mail: Diese E-Mail-Adresse ist vor Spambots geschützt! Zur Anzeige muss JavaScript eingeschaltet sein.